Everything about the Cape Cod home of David Nault and Paul White appears effortlessly pleasing. The windows in their late-18th-century house allow a stream of dreamy light to filter into the ancient-meets-modern interior.
The decor is simplicity itself; the whole space is painted white. Furniture is covered in white twill, designed to be removed for easy cleaning. Even period pieces, like a Chinese chest in the TV room, have not escaped a whitewash. "I need a white environment to feel calm in and in control," explains White, acknowledging that this desire could be related to his name. He won a battle with Nault over painting the pine floorboards but concedes that a total 100 percent whiteout would detract from the character of the house.
Balance is achieved with coir matting rugs and old Asian chests, too beautiful to camouflage. Splashes of color and texture are added in artworks collected from painters Sandra McPherson, Joanne Hughes, and Hiro Yokose. "The joy of a neutral backdrop is that it allows you to make changes with accessories and to move things around," says Nault. "It works all year round for us; it's as good at Christmastime as in spring or summer."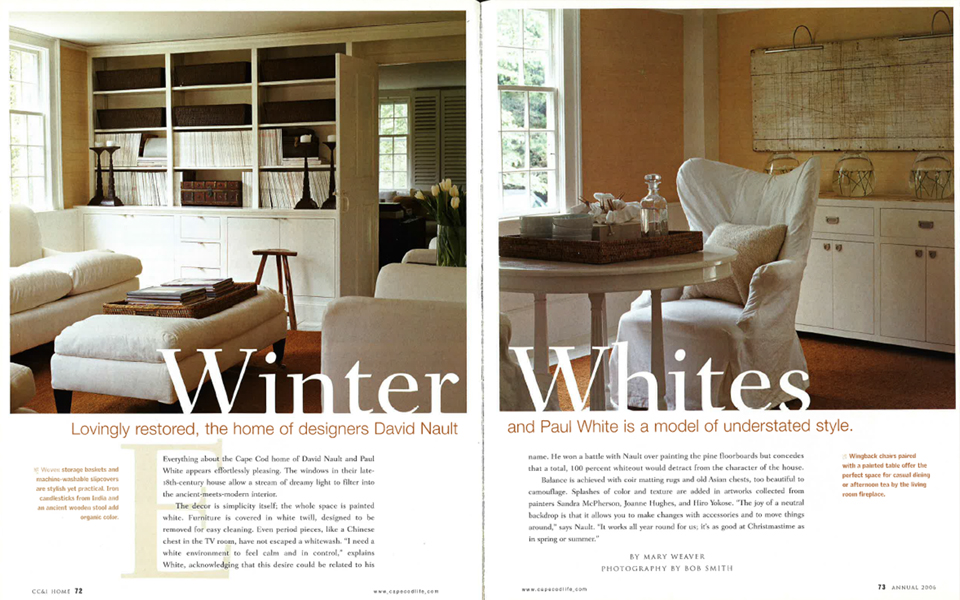 When Nault and White bought their half-Cape home, dating back to the late 1700s, they planned minimal refurbishment. As interior designers, it may seem unusual that they had no desire to reconfigure rooms, but they fell for the house because of its quirkiness. It had additionals tacked on in the 1850s, and again in 1969. "The way the house has evolved is very classic," says Nault of the building, which now resembles a long L-shaped corridor. With its pitched roof and cedar shingles, it was a house they coveted years before it became theirs.
It was seriously dated and hadn't been maintained for years…but that was part of its charm.
"We used to drive past and admire its position in the middle of a plot of land and envy the light it always seemed to be bathed in," says White, who has childhood memories of his grandmother living in the area. When a "For Sale" sign appeared, the pair did not hesitate.