They left New York for Boston and began to create interiors for residential clients in the city and on the Cape. Weena & Spook rooms are variously hued, revealing the sure use of color the designers developed during years in the fashion industry. For their own home, however, their vision was uncompromising. "We chose this place because it was a nice box, all white," says Nault. "Our stuff would fit here really well."
"The kitchen was all done," his partner adds. "All we had to do was to put up window treatments and bring in furniture."
Kitchen, living room and dining room flow into each other before large windows. White cotton duck draperies echo the fabric upholstering sofas, chairs, ottomans, the master bedroom's headboard and even a prominent section of living room wall. "The upholstery softens the hard wall," Nault explains. "We are big on rough paired with fine. For example, the slipcovers are rumpled, but the walls are tight. The furniture is composed of pure white in clean shapes, while the end tables are pieces of old Battery Wharf piers."
"No one worries about putting a drink on them," his partner says with a laugh.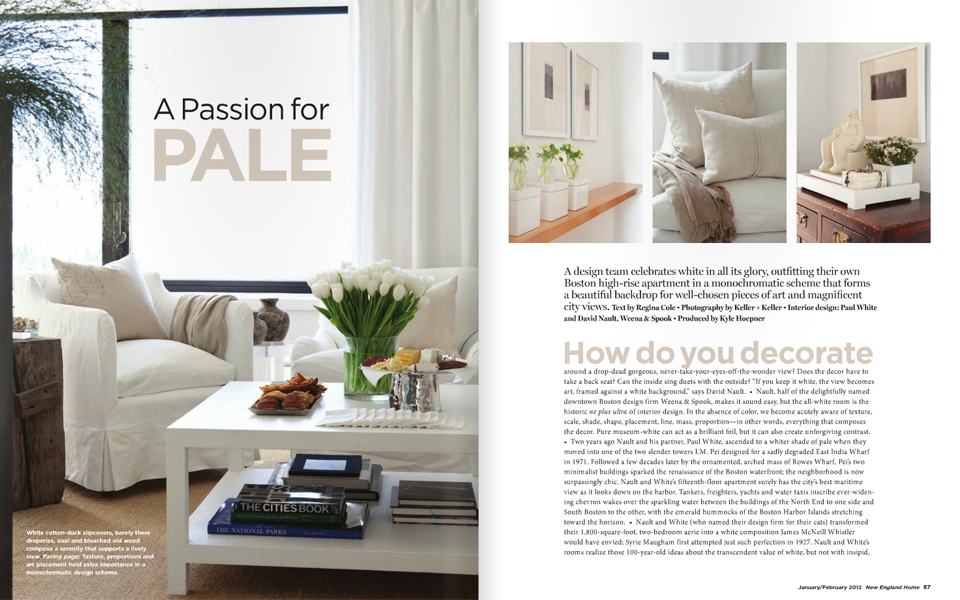 White expands on their aesthetic. "We like it monochromatic, but we create texture with grasscloth, woven papers, linens, heathery wools—materials that provide subtle contrast and that complicate the play of light."
He continues, "Make sure you do a white you can clean. That's why we use slipcovers in white cotton twill; it's basically denim, a fabric that wears like iron."
Just as it draws the eye to the brilliant, ever-changing view, white showcases the couple's favorite pieces of art, including striking contemporary works whose saturated pigments and brushstrokes sing against the clean backgrounds of the walls in the living room and bedroom. Above the master bedroom headboard, a long, horizontal composition by Victoria Wagner encapsulates the serenity and textural contrast of the entire interior.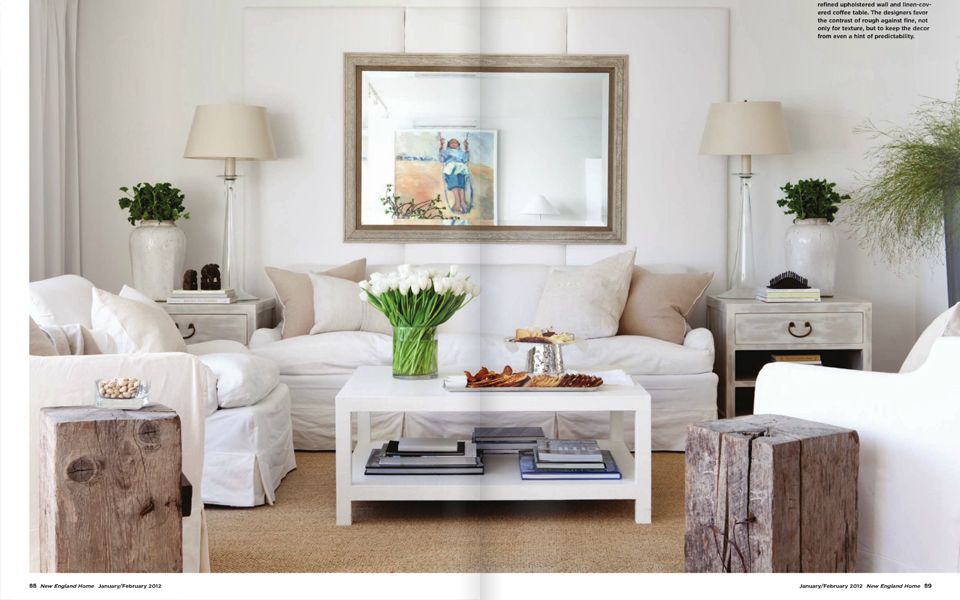 The designers who have inspired White and Nault may come as no surprise, at least in light of their own living space. "We love Calvin Klein and, for his ability to edit, Giorgio Armani," says White.
"Also, the European hotelier and designer Anouska Hempel," Nault adds.
Distinctive as White and Nault's home looks, Weena & Spook does not have a "signature" style. "Our primary concern is to get the space and the flow right," says Nault. Still, he adds, "We almost never do prints for clients."
Although the interiors they create for clients may be more colorful than their own home, the pair understands what Pablo Picasso and John Singer Sargent knew: without white, colors don't matter.
In their design work, they strategically place color to highlight important architecture or to emphasize beautiful elements of a room.
But here in their own home, most of the vibrant, saturated color comes in through the windows. From the moment you open the front door, the whole space communicates a deeply satisfying sense of completion, a complex, perfectly proportioned frame displaying a scene full of color, movement and ever-shifting reflections. "When you deal with other people's colors all day," confesses Nault, "it's restful to come home to white."