The importance of making a good entrance cannot be overstated. For David Nault and Paul White, owners of Weena & Spook in Osterville, Massachusetts, designing the foyer to the Boston Design Center's Dream Home meant creating a comforting and serene space to set the tone for the rooms that follow, and then adding a few endearingly homespun details.
Beginning with a soothing dusky cream palette, Nault and White focused on an inventive 42-inch high wainscoting of rough-hewn barn board with a smooth trim, which was then coated with a milky glaze. The glaze lends the barn board the same shade of taupe as the grasscloth wall covering, creating a striking textured backdrop for the deep-hued Portuguese turned leg console.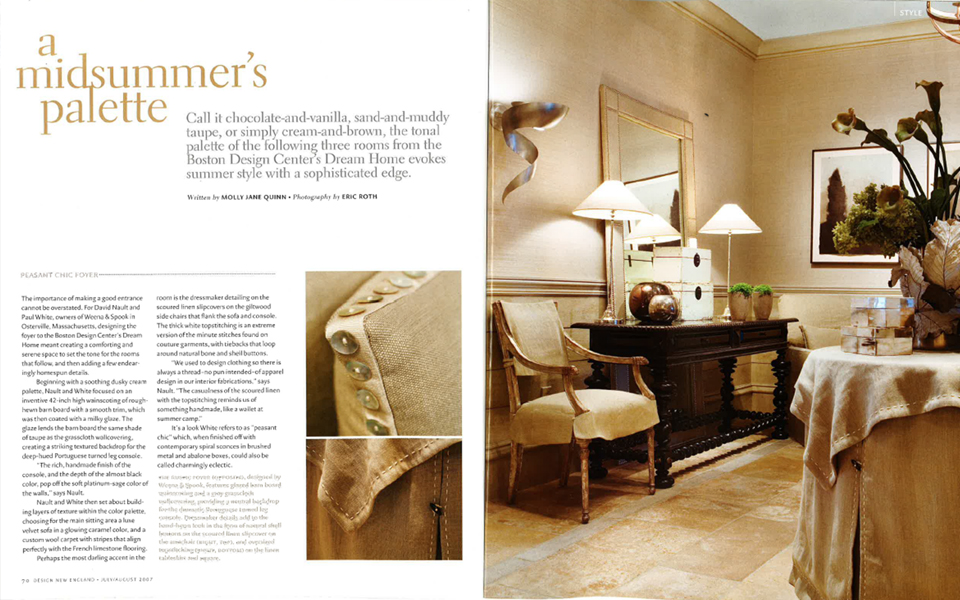 "The rich, handmade finish of the console, and the depth of the almost black color, pop off the soft platinum-sage color of the walls," says Nault.
Nault and White then set about building layers of texture within the color palette, choosing for the main sitting area a luxe velvet sofa in a glowing caramel color, and a custom wool carpet with stripes that align perfectly with the French limestone flooring.